Banteer Open Sports 2023 take place once again this year on Saturday 24th June at 3pm in Banteer Park.



History
The Banteer sports were famous since 1886 when the inaugural meeting was held. At the 1888 meet the world champion Denis Horgan (weight thrower) secured his first win at the age of 17. The Banteer venue was convenient to the Banteer Railway Station which may be responsible for an original attendance of 6000.
In 1926,  Dr Pat O'Callaghan made amends for his previous unsuccessful participation by recording a double in the 56 lbs over the bar and the high jump. Almost exactly two years after his successful participation at Banteer, Pat O'Callaghan's name was to become a household name, with his hammer victory in the 1928 Amsterdam Olympics. The revival of Banteer Sports again in 1938 brought huge crowds to Banteer, with the sports now being held in Buckleys field. The 1950 meeting was the last to be held in Buckleys field and the attendance broke all records.
Banteer Sports Field was opened in 1952.
Banteer sports continued to grow in stature during the 1950s and the venue got its just reward when it staged the All-Ireland championships in 1965 and again in 1966 with the National championships also being held in Banteer in 1970 and 1972. Most famously the 1972 10,000m race saw Donie Walsh (Leevale), John Hartnett (Grange), Neil Cusack (Limerick) in a very competitive contest with Hartnett taking gold. Some of the other highlights of that weekend included doubles by three other Munich Olympic-bound athletes. Fanahan McSweeney, another Grange man, won the 200m in 21.5 sec and 400m in 47.8 sec. Ovens all-rounder Margaret Murphy won the 110m hurdles for the third year in succession in a time of 15.9 sec, also adding the long jump, with a leap of 5.51m, plus a third in the 100m. Clonliffe Harrier Claire Walsh was victorious over the 200m (24.5 sec) and 400m (55.4 sec).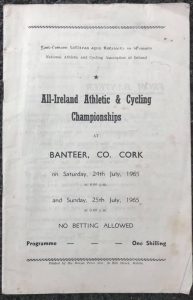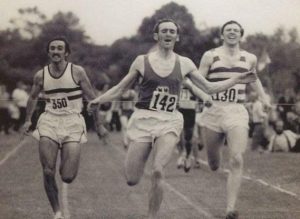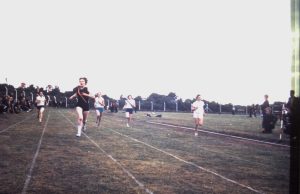 North Cork AC hosted the Banteer open sports in 2019 in an attempt to bring competitive athletics back to the Banteer sportfield, an event that proved very popular. The next possible staging of the event was in 2021 where over 400 juveniles took part from across Munster, a feat that was repeated in 2022 albeit on a rainy day.