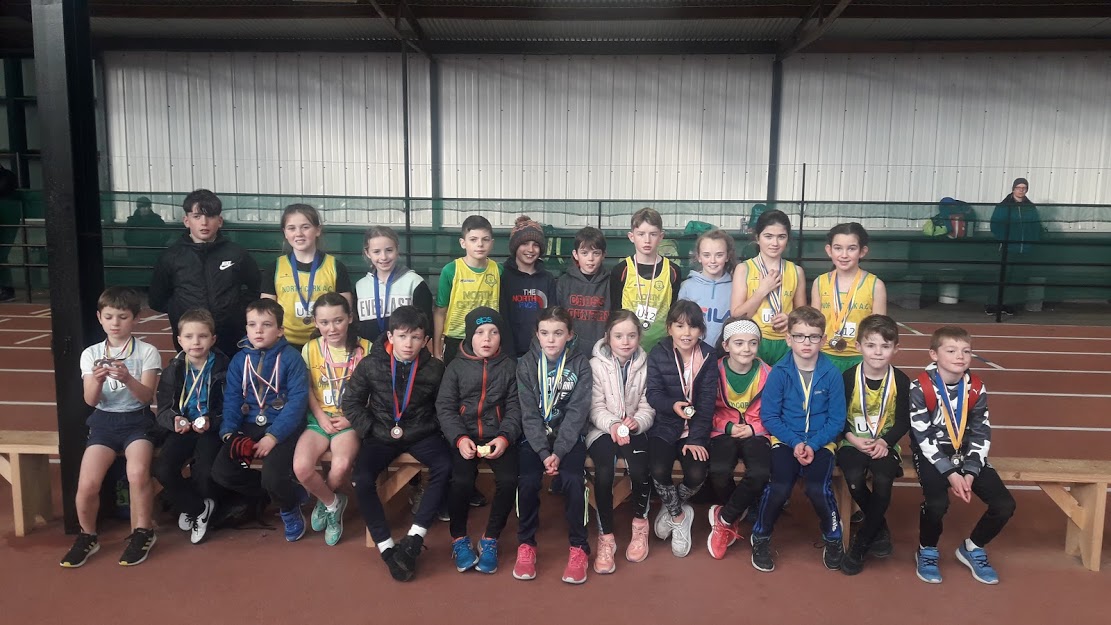 List of Entrants from North Cork AC for under 9 to 11 Munster Championships:
Saturday 15th February at 10am

All parents and athletes should arrive by 10am if competing in distance races and before 9:30am if competing in sprint events. Please consult list of entries and programme linked above for more detail.

Contact Michael 0863168954 for more details or if you have any questions.
Distance Races @ 11:30am – U11(600m), u9(300m), u10(500m)
Under 11 Girls 600m
Hannah O Connell
Saoirse Bluett
Roisin Morris
Grace O Callaghan
Emma Flynn
Ava Buckley
Under 11 Boys 600m
Gearoid Linehan
Bryan Buckley
Declan Moloney
Gary Murphy
Sean Twomey
Stephen McHugh
Tadhg Corrigan
Matthew Cooke
Max O Brien
Adam Piggott
Under 9 Girls 300m
Sarah Kate O Connell
Grace Healy 
Emma Foley
Sophie Collins
Under 9 Boys 300m
Liam Bluett
Ryley Thompson
Mason Walsh
Kyle Hunter
Robbie Mc Auliffe
Odhran Lowe
Luke O Sullivan
Under 10 Girls 500m
Mary Looney
Michaela Flynn
Alice Golden
Sive Reidy
Shannon Keane
Suzanne Frawley
Muireann Murphy
Muireann Angland
Emma O Regan
Ciara Kiely
Ava Grace
Beth Buckley
Under 10 Boys 500m
Oisin Withers
Daniel Shorten
Harry Browne
Darragh Noonan
Joseph Lennon-Cielen
Gavin Buckley
Filip Gaczol
60m Sprint @ 10am – Arrive @9am
Ava Grace
Beth Buckley
Muireann Murphy
Ciara Kiely
Sive Reidy
Alice Golden
Muireann Angland
Shannon Keane
Emma O Regan
Michaela Flynn
Mary Looney
Hannah O Connell
Emma Flynn
Saoirse Bluett
Grace O Callaghan
Roisin Morris
Ava Buckley
Sophie Collins
Grace Healy
Emma Foley
Sarah Kate O Connell
Daniel Shorten
Joseph Lennon-Cielen
Harry Browne
Oisin Withers
Jamie Ryan
Gavin Buckley
Darragh Noonan
Filip Gaczol
Declan Moloney
Stephen McHugh
Tadhg Corrigan
Callum Thompson
Matthew Cooke
Gary Murphy
Max O Brien
Sean Twomey
Bryan Buckley
Gearoid Linehan
Luke O Sullivan
Kyle Hunter
Liam Bluett
Ryley Thompson
Mason Walsh
Robbie Mc Auliffe
Conor Daly
Odhran Lowe