The Munster juvenile Under 9 to 13 outdoor track and field championships took place last weekend in Ennis. We had some excellent performances from some our youngest juveniles. It was an enjoyable day for all,
We had 3 pairs of athletes qualify for the All-Ireland under 9 to 11 team games track and field championships when they won team medals in their respective events.
Girls Under 10 500m – Munster Bronze Medallists – Fiona Power 5th 1:42.92, Caoilainn Ryan 7th 1:44.50
Girls Under 9 300m – Munster Silver Medallists – Ruby O Reilly 5th 56.77, Holly Harris 8th 57.49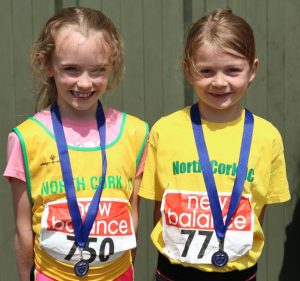 Boys Under 10 500m – Munster Silver Medallists – Sean Higgins 5th 1:36.76, Eoin Looney 13th 1:41.16.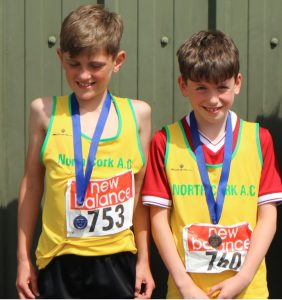 Ella Jenks had one of the performances of the weekend for the club in finishing 2nd in the under 13 Girls 80m sprint. She came through her rounds very proficiently and executed her sprint excellently coming out of her blocks and accelerating well.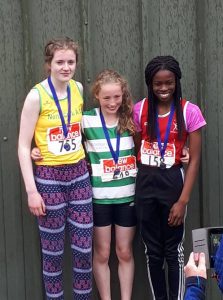 Top Level Performances
We had a number of other athletes finish in the top 10 of their events and represent the club very strongly and a number of others who gained valuable experience to help them improve into the future.
Outside of the medallists there were some notable performances by some of our athletes. There was Tomas Kiely in the under 9 boys 300m finishing 7th overall. Eoin Looney was 10th in the under 10 boys 60m sprint after finishing 13th in the 500m. Our under 10 boys relay team finished 5th overall in the relay event. Eimear O'Donovan finished 6th in the under 11 Girls 600m event.
Therefore it was a very productive and enjoyable weekend despite the changeable weather which prevailed throughout the weekend. All those who qualified will look forward to competing in the All-Ireland championships on Saturday June 24th in Tullamore.