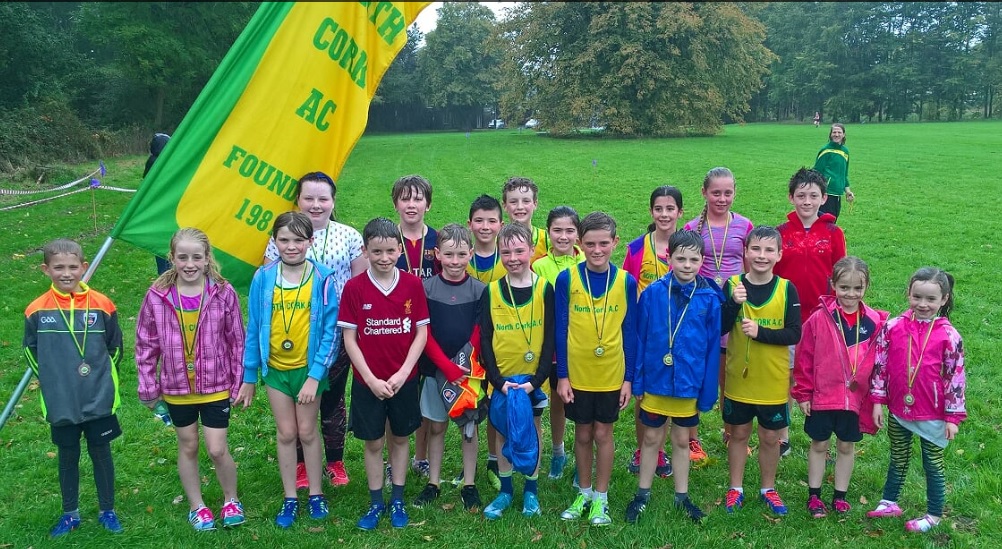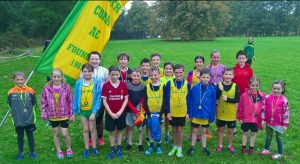 North Cork AC have a large entry of athletes for the County Juvenile Even-age XCountry this Sunday October 1st at the Cork Athletics Cross Country course in Slieveroe, Riverstick, Co. Cork
The following athletes have been entered – All athletes under 14 should be at the course by 12pm and all others by 1pm.
Girls and boys under 10 races will be first at 1pm and 1:15pm respectively.
All runners should wear XCountry spikes.
List of entrants by Age/Gender:
| | | |
| --- | --- | --- |
| | Name | Event |
| 1 | Oisin O'Brien | U10 Boys |
| 2 | Mel Twomey | U10 Boys |
| 3 | Billy Looney | U10 Boys |
| 4 | Shayne Kiely | U10 Boys |
| 5 | Tomas Kiely | U10 Boys |
| 6 | Ben Harte | U10 Boys |
| 7 | Joshua Kelleher | U10 Boys |
| 8 | Kyle Singleton | U10 Boys |
| 9 | Muiris Reidy | U10 Boys |
| 10 | Liam Allen | U10 Boys |
| 11 | Gusztav Dansca | U10 Boys |
| 12 | Iain Buckley | U10 Boys |
| 13 | Eoin Looney | U10 Boys |
| 14 | Sean Higgins | U10 Boys |
| | | |
| 1 | Roman B Hogan | U12 Boys |
| 2 | Daire Ryan | U12 Boys |
| 3 | Sean Walsh | U12 Boys |
| 4 | Peter O'Connor | U12 Boys |
| 5 | Rory O'Connor | U12 Boys |
| 6 | Oisin Bourke | U12 Boys |
| 7 | Eanna Garvey | U12 Boys |
| 8 | Emmett Lyons | U12 Boys |
| | | |
| 1 | Bryan Healy | U14 Boys |
| | | |
| 1 | Jack O'Niell | U16 Boys |
| 2 | John O'Flynn | U16 Boys |
| 3 | Luke Hever | U16 Boys |
| 4 | David Kilmartin | U16 Boys |
| | | |
| 1 | Damien Madigan | U18 Boys |
| 2 | Michael O'Flynn | U18 Boys |
| 3 | Eoin Healy | U18 Boys |
| | | |
| | | |
| 1 | Caoilainn Ryan | U10 Girls |
| 2 | Fiona Power | U10 Girls |
| 3 | Marysia B Hogan | U10 Girls |
| 4 | Ruby O'Reilly | U10 Girls |
| 5 | Martyna Zajac | U10 Girls |
| 6 | Ava Shorten | U10 Girls |
| 7 | Holly Harris | U10 Girls |
| 8 | Katie O Donoghue | U10 Girls |
| 9 | Kate Healy | U10 Girls |
| 10 | Leah Ryan | U10 Girls |
| 11 | Eimile Browne | U10 Girls |
| | | |
| 1 | Eimear O'Donovan | U12 Girls |
| 2 | Sinead Walsh | U12 Girls |
| 3 | Ruby Sheehan | U12 Girls |
| 4 | Jane O'Sullivan | U12 Girls |
| 5 | Mary Nolan | U12 Girls |
| 6 | Kayla O Mahoney | U12 Girls |
| 7 | Ava O Mahoney | U12 Girls |
| 8 | Grace Weaver | U12 Girls |
| | | |
| 1 | Aniela B Hogan | U14 Girls |
| 2 | Catherine Walsh | U14 Girls |
| 3 | Zara O'Hanlon | U14 Girls |
| 4 | Ellen Meehan | U14 Girls |
| 5 | Aoibh Hogan | U14 Girls |
| 6 | Lauren O Mahoney | U14 Girls |
| 7 | Kate Sheehan | U14 Girls |
| | | |
| 1 | Maria Campos | U16 Girls |
| 2 | Maeve O Connor | U16 Girls |
| 3 | Sophie Moloney | U16 Girls |
| | | |
| 1 | Ursula Bluett | U18 Girls |
| 2 | Aine Kelleher | U18 Girls |
| 3 | Marcella O Connor | U18 Girls |
| 4 | Caoimhe Taylor | U18 Girls |
| | | |