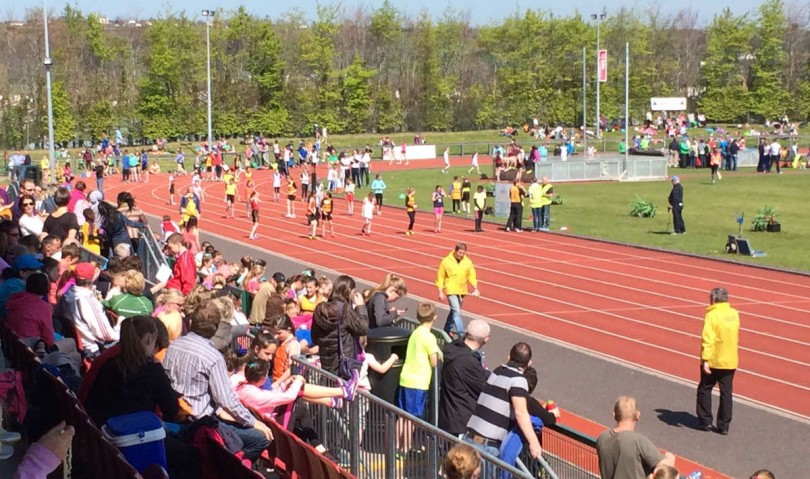 The All-Ireland Juvenile Track & Field Championships took place last weekend with nine athletes from our club participating in 13 events. The athletes collected 6 medals between them and the majority of the rest were reasonably close to the top placings.
The highlight of the weekend was Megan Lenihan (under 14) winning her Discus competition and setting yet another Championship record for her age group in this event. Megan also secured Bronze in the Shot Putt, while her club-mate Sophie Perrott, was just outside the medals in both events that she was competing in alongside Megan. Emily (under 15) and Shauna Linehan (under 16) secured medals in Javelin and Hammer to complete what has been very good seasons for both girls in club and schools competition. Noelle Lenihan again featured in the medals finishing 3rd in the under 18 girls Discus competition. Grainne Egan demonstrated how tenacious a competitor that she is when she secured Bronze in the Girls under 15 1500m with a time of 4:59. Her cousin Ella Jenks was just outside the medals in the sprint competition in the under 12 60m when she ran 8.78 sec to finish 4th but showed significant improvement in all aspects of her performance since the beginning of the year.
The results for all our competing athletes from the weekends' competition in Tullamore are below.
Megan Lenihan – Girls Under 14 Discus 1st 39.36 CBP, Shot Putt 3rd 13.89m.
Sophie Perrott – Girls Under 14 Discus 4th 26.20, Shot Putt 5th 11.74m.
Emily Linehan – Girls Under 15 Discus 5th 24.55, Javelin 2nd 31.05m.
Shauna Linehan – Girls Under 16 Hammer 3rd 36.46, Shot Putt 5th 9.98m.
Noelle Lenihan – Girls Under 18 Discus 3rd 31.76.
Callum Keating – Boys Under 13 Shot Putt 10th 9.66m.
Damien Madigan – Boys Under 17 1500m 10th 4:27.
Ella Jenks – Girls Under 12 60m 4th 8.78 sec.
Grainne Egan – Girls Under 15 1500m 3rd 4:59.